Title: Anger Is a Gift
Author: Mark Oshiro
Publisher: Tor Teen
Age: YA
Genre: Contemporary
Released: May 22nd, 2018
Content Warnings:  Racism, police brutality, death, violence, ableism, gun violence
Representation: LGBTQIAP+: Gay main character and love interest, sapphic side characters, trans & non-binary side characters, ace side character.
POC: Black main and side characters, Latinx love interest and side characters + undocumented characters.
Disability: Side character has pins in his knee, uses crutches and a wheelchair.
Neurodiversity: main character has anxiety and panic attacks.
Religion: Muslim side character.
Fat: main character. 
Synopsis*: Six years ago, Moss Jefferies' father was murdered by an Oakland police officer. Along with losing a parent, the media's vilification of his father and lack of accountability has left Moss with near crippling panic attacks.
Now, in his sophomore year of high school, Moss and his fellow classmates find themselves increasingly treated like criminals by their own school. New rules. Random locker searches. Constant intimidation and Oakland Police Department stationed in their halls. Despite their youth, the students decide to organize and push back against the administration.
When tensions hit a fever pitch and tragedy strikes, Moss must face a difficult choice: give in to fear and hate or realize that anger can actually be a gift.
---
Grey Reads
🍃  Grey Reads // It's Beginning to Look a lot Like Christmas – My True Love Gave To Me
🍃 Grey Reads // I Paid $12 for Disappointment – Let It Snow
🍃  Grey Reads // Showing the Cyclical Nightmare of Abuse – Bad Romance
---
Complex and honest, Anger is a Gift reminds oppressed people that they have every right to the feeling they are often demonised for: Rage.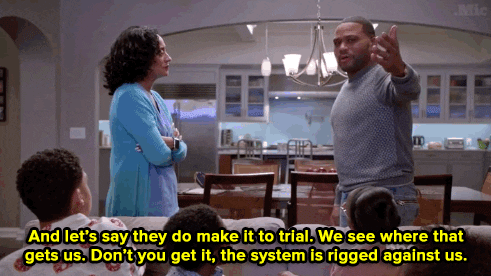 "Anger is a gift. Remember that." She stood. "You gotta grasp on to it, hold it tight and use it as ammunition. You use that anger to get things done instead of just stewing in it."
Anger is a Gift packs so much into its pages.
We follow Moss as he is still healing from losing his father to police violence while police brutality is becoming more common in his own school. He's had enough, he's hurting and angry and he's ready to fight back. 
This book uses Oakland as its backdrop to talk about so many topics. The cast of characters is incredibly diverse, god-tier diverse. Did you see my rep list at the start of this post??? It's incredible and brilliant.
So many people are represented in this book, so many readers will find a character that mirrors themselves and that's damn important. It's casual and yet still revolutionary.
These characters aren't caricatures of their identities, they're complex people they're not afraid to talk about how their identities intersect and affect them.
We just want to go to school." Her voice broke again. "I'm sixteen. I shouldn't have to beg for that. But we just want to get to class without fearing for our lives."
All these characters are teenagers who just want to feel safe in their school and learn, but unfortunately, a very strong force keeps getting in the way, the Oakland Police Department. Instead of doing their job of protecting their community, these officers are terrorising children.
Because they can. Because they know they'll get away with it. Because power is one hell of a drug and racism is systematic.
There were many choices the author made that shocked me but I think they were great choices for this story. I could feel they were made with love and understanding and not just purely for the shock factor or just as a plot device.
I couldn't stop reading it. I needed to know what happened to these characters who felt so real that I could pull them from the page and bring them into the real world, my world, and sit with them on the bus or walk alongside as I walked home. That's because their stories are real ones, they're ones people experience daily. Oshiro put so much truth and reality into his book and it shows.  
"How do you do it, Moss?"
"Do what?"
"Exist. When the world hates you so much."
🔖 If you would like a free phone wallpaper created by yours truly, stay till the end of this post where you'll find a link to download TWO!
Oshiro really captured the feelings of these kids. Their anger, their hurt, their heartbreak.
I loved the sense of community he crafted between these characters. They help each other, they support each other and they're there for each other when all hell breaks loose. I was so deeply invested in these characters' well-being and that's a credit to Oshiro's writing. 
I loved the conversations between the teenagers, they're so great at communicating with each other and despite that not being realistic to my experience when I was a teen, I believe it sets a brilliant example for teens today. It's so important to teach kids from a young age the value of communication and how to carry it out respectfully and effectively, Anger is a Gift does that and it does it bloody well.
"Please don't feel sorry," she said, and Moss knew she wasn't reading from her notes. "He doesn't want your pity, he wants your anger."
I believe this books strength's lies in its characters, in the community they're part of, and it's message. My heart soared and broke with theirs, I came to a dead stop while reading this on my walk home because I couldn't do anything else while I processed what was happening and how it made me feel.
I've read many books that have made me so emotional, but none have made me stop so suddenly and burst into tears in public like that.
Anger is a Gift is not a quiet book, it is not asking kindly for you to listen, it's not trying to mould its message into something easier for you to swallow.
It is loud, and righteous in its anger. It is giving you the truth of a world you might not experience yourself and telling you: it exists, we exist, but we are dying, we are being murdered. It asks: what are you doing to stop it?
He'd been cursed by violence and loss. He'd been blessed with love and support. He couldn't separate them, and he had to learn to live with both.
*Taken from Goodreads.
**If you would like me to include links to purchase books from a specific store in my reviews please let me know!
💲 I receive a small commission off the following link
Thank you to Netgalley for providing me with an advanced reader copy in exchange for my honest review.
---
Grey Recommends – Books About Racism by Black Authors
🍃 Born a Crime, Memoir: Trevor Noah opens up about growing up during the twilight of apartheid. 
🍃 Piecing Me Together, Contemporary: Piecing Me Together follows the day to day life of Jade, a black girl in Portland whose mother is struggling to make ends meet.
🍃 The Hate U Give, Contemporary: Sixteen-year-old Starr Carter moves between two worlds: the poor neighborhood where she lives and the fancy suburban prep school she attends. The uneasy balance between these worlds is shattered when Starr witnesses the fatal shooting of her childhood best friend Khalil at the hands of a police officer. Khalil was unarmed.
---
Don't forget it's Black History Month!
So pick up a book by a black author, read about black history, learn about the Black Lives Matter movement. Educate yourself. 
I'll be doing an Ancient Archive post on Alice Ball at the end of the month, 29/2, Alice Ball Day!
🔖 If you would like a

FREE

Phone Wallpaper that I created with quotes from this book you can find two here
.
Have you read Anger Is a Gift? 
What book by an African-American author do you recommend? 
│Blog│Goodreads│Instagram│Twitter│Tumblr│